With version 3.8 of Knot you can now make 32-bit icons for Mac OS 8.5 and Mac OS 9. From a single design you can make TIFF images, stereograms, seamlessly repeating tiles, QTVR objects , and QuickTime movies with one click.

Dive right into the abstract modelling options including curved strands, straight segments, spheres, glowing objects and ribbons. Or use the Magic Knot screen to conjure a whole movie from scratch.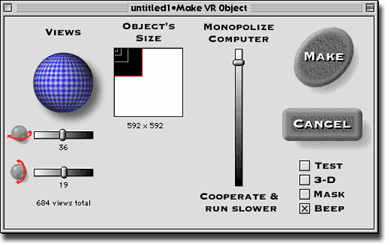 "Design fantastic, beautiful images on your Mac with this easy to use graphics program. With a wealth of options to stretch your artistic talent, the program produces its wonderful creations in just minutes." -MacFormat
"The interface is beautiful, worth the shareware fee in and of itself. It inspires you to create truly magnificent knots much the way Kai's Power Tools inspires Photoshop users to explore the unexpected." -ZiffNetMac reviews
"The often striking result will keep you creating new knots, over and over again, just to see the results. If you've ever wanted to feel like a real artist, give Knot a try. " -MacReview , 9/97
"If you think you could enhance some documents with a few handsome knots or if you're simply interested in seeing a beautiful craft, check out Knot. It creates 3-D knots -- for which you set the shape, color, and lighting -- and lets you save them as a TIFF graphic or an animation." -MacUser , 10/96 Shareware Award winner
"Knot is an incredible program that....draws three dimensional knots (in technical terms: models and renders vectors along a path of varying densities, sort of). It does this very well and given the eternal mythological value of the "enigma," the subject matter is really quite enchanting." -MacUser , 10/96 (5 mice rating)
"Decidedly unsexy" - Wired , 11/97
The Knot Room
KnotPlot - 3D topological knot graphics
Knots on the Web
Documentation en français est disponible.